During their first term in office, when the so called Jubilee "dynamic duo" wore matching shirts, trousers, ties – and God knows what else was matching under those shirts and trousers; Ruto was a co-president in every respect, except by name. Now, their bromance is clearly over and the once tight Uhuru ruto relationship is unmistakably in tatters. Theirs was akin to a man trying to share a woman with his boss. You know how such situationships usually end up. That was Ruto's POLITICAL SUICIDE MISTAKE #1.
The other day I watched Citizen TV's Joe Ageyo interview a totally subdued and haggard-looking DP William Ruto and I couldn't help but feel some pity for the self-declared Chief Hustler. Power is so fleeting folks. It is an illusion. Just use it economically whenever you have it (or think you have it). Those who use it extravagantly, without making any savings for the future, end up regretting later.
Here is a man who was just too powerful in the first term of the Jubilee regime, now lamenting on national television that very junior Jubilee party officials, like vice-chair David Murathe – together with others that he calls "political brokers" – have literally hijacked the party and rendered him a complete outsider!
If you have been watching any William Ruto Latest News, you might have realised that the man looks unusually old and tired for his age. This is thanks to an all-out political war waged against him, in a ruling political party he is known to have done the donkey-work to build right from scratch! He reminded me how white-haired and fatigued Obama looked after his first 4 years in office. Indeed, politics is not for the fainthearted.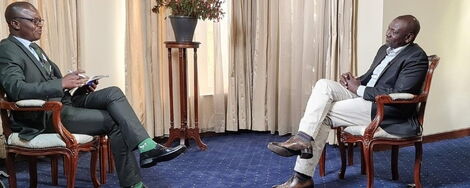 Does Uhuru Support Ruto In 2022?
What Ruto shies away from telling the public is that the junior officials and power brokers frustrating him in Jubilee have the full blessings of the president, from whom they draw their power to deal with the DP. They are actually Uhuru's "watu wa mkono" – hatchet-men. But, for some reason the DP has carefully avoided any direct confrontation with his boss.
In the party matters, Uhuru has been speaking through the likes of Jubilee Vice chair David Murathe and SG Rapahel Tuju; while Ruto answers through the vice SG, one Caleb Kostany.
In parliament, Uhuru speaks through Irungu Kang'ata, Kanini Kega and company; while Ruto speaks through the likes of Kipchumba Murkomen, Kimani Ichungwa and the rest of the Tanga Tanga gang.
In the political pecking order, the Deputy-President is supposed to be the second most powerful individual in the country. Who else then could be in a position to successfully frustrate the DP, apart from the president himself?
As a political science student, I found Jubilee's first term (2013-2017) quite intriguing in terms of the pecking order at the top.
During the time when the so called Jubilee "dynamic duo" wore matching shirts, trousers, ties – and God knows what else was matching under those shirts and trousers; Ruto was a co-president in every respect, except by name.
Now, their bromance is clearly over and the once tight Uhuru Ruto relationship is unmistakably in tatters. Theirs was akin to a man trying to share a woman with his boss. You know how such situationships usually end up. That happened to be Ruto's POLITICAL SUICIDE MISTAKE #1.
Any political pundit will tell you that such political arrangements, where the deputy seeks to equally share government with the boss -almost at all times – end up in political disaster and tears for the deputy.
This is given, so long as the president remains in full control of the instruments that give the state a monopoly of violence. These include the military, police and the intelligence services.
Ruto vs Uhuru
Ruto refused to act like a deputy from day one. He couldn't even allow Uhuru to make any appointments in government as president, without consulting him first. Imagine how irritating and suffocating that must have been to Uhuru.
He even insisted on choosing half of the cabinet, seeing to it that a number of powerful and lucrative ministries like those of Finance, Energy and Agriculture were occupied by his appointees. That was Ruto's POLITICAL SUICIDE MISTAKE #2.
While his wishes were granted and the ministries he wanted were given to his men and women, the intelligence services kept tabs on every move Ruto and his allies made in these offices. Soon mega-corruption scandals began getting exposed in each of the ministries occupied by the DP's people.
Somehow, each of this scandals found a way of linking itself to the DP or his close allies and clinging to them like a bad stench that refuses to go away. The Arror and Kimwarer Dams saga; the KPLC, KPC, and NCPB scandals are just but a tip of the iceberg.
It is an open secret that Ruto and his men siphoned a lot of money from government in Jubilee's first term. While Ruto saw an opportunity to amass a formidable war-chest for his 2022 presidential bid, the intelligence services were busy documenting all the scandals connected to him and his allies and keeping the dossiers safely.
This is something that hangs over Ruto's head like a political sword of Damocles. Not only has it been used as an excuse to eject Ruto's men from plum government posts but it also denies Ruto the locus standi to sell himself as a reliable alternative to the pathetic Jubilee government, whose looting spree he has been part and parcel of.
At the right time, the well-documented scandals are something that can be unleashed on him like hellfire and he knows it. Not that the Uhuru side is not corrupt. We all know that fighting corruption in Kenya is always a political tool that depends on who pulls the levers of power at a particular time.
It is never a mass testing affair. No. It is usually a targeted exercise, complete with contact tracing. Those in power choose who has to be quarantined, who has to be hauled before the courts to face corruption charges, and who is to be sent to the isolation wards in Kamiti.
They also decide who is to be sanitized against the corruption virus. It is a sad reality but that is how things work around here.
Then Ruto began campaigning for 2022, immediately Uhuru started doing his second term as president. This gave Uhuru enough reason to move against him, in the name of safeguarding his own legacy.
Uhuru's legacy-building and Ruto's early campaigns for the continuation of the Jubilee mistake beyond 2022 couldn't go hand in hand. One had to fall. That was Ruto's POLITICAL SUICIDE MISTAKE #3
Raila and Ruto Politics
For some time now, Ruto's political lieutenants have been running with the narrative that Raila is the man who has been rocking the Jubilee boat with an aim of capsizing it and killing the party, after he "joined government" through the HANDSHAKE.
This limping narrative no longer holds any water. It is neither here nor there, since it is now obvious that the person giving Ruto a political beating and supplying him with scary nightmares is none other than his own boss and erstwhile bosom buddy, Uhuru Muigai Kenyatta.
What Raila has offered is the much needed backing that Uhuru needed to deal with Ruto. Raila helps in pinning Ruto's hands down, while uhuru whips Ruto's little behinds thoroughly.
This is something Uhuru desperately needed, but lacked during his first term; which offered Ruto a perfect opportunity to grab Uhuru by the balls, effectively having him on a short leash. Uhuru never liked the tight grip in such delicate places. He silently promised himself that he will revisit in his second term.
It seems it's now Uhuru's time to deal with Ruto and show him who is boss once and for all. It is his turn to grab Ruto firmly by the balls and do a jig around with him as he wishes. Ruto's 2022 political fortunes largely depend on the extent to which Uhuru is planning to deal with him politically.
Does Uhuru Kenyatta Have A Degree in political manipulation? Many who have been having questions about the man's political acumen have been asking.
Make no mistake, the man might not be the self-declared professor of politics that his mentor Daniel Toroitich Arap Moi was; but, he is a smart player of realpolitik. Look at the way he has dealt with both Raila Odinga and William Ruto – his two main political problems.
He is like a man who is masterfully navigating through a polygamous marriage. Winning his former political archenemy Raila Odinga to his side was a political masterstroke that killed two birds using one stone.
With that single move, he was able to cut William Ruto down to size and effectively silenced Raila Odinga's deadly political attacks against his government. Now all Raila and Ruto politics must revolve around him. He has a big influence on the 2022 political fortunes of the two politicians.
The Art of Vanquishing Political Opponents
When you want to politically finish off a politician of Ruto's stature, there are two ways to go about it: You either hit the shepherd so hard that the sheep will immediately scamper to the four winds of the world in search of safety,
OR…
You use the slow puncture approach, whereby you target all the close allies of the politician and hit them with everything that you can lay your hands on. This is aimed at isolating your target politically by subduing his lieutenants and forcing them to flee for their dear lives, away from their political boss' camp.
The first strategy was applied when Uhuru and Raila wanted to whip the governors into singing the BBI Reggae song. They picked on Clifford Ferdinand Waititu – Babayao (the noisiest of them all) and hit him so hard that, in his current hideout, he is still trying figure out what really hit him.
This put true fear of the Lord in the governors. Given that almost all of them have stolen from their counties public coffers and their dossiers are with the NIS. Soon they were all quickly falling over each other in singing and dancing to the BBI Reggae tune. None of them is prepared to suffer a similar fate as that which befell Babayao.
To avert any major political fallout and violence that might be triggered if he applies the first strategy, Uhuru has chosen the latter to deal with his DP. Funny enough, all these politicians have some skulls peeping from their closets and NIS is very good at keeping such records.
Cases from as far as 20 years back that involve Ruto allies will be revived, while the taxman breathes down their necks like an angry dragon. They will be kept very busy with one court hearing after another until the curve of their support for Ruto flattens.
They are already being harassed left, right and centre and the worst part about it is that Ruto can only watch helplessly and lament, as his allies are picked one by one and hung out in the open to dry. Yet he gave them the impression that he is a very powerful man in this government!
Look at what is happening to Aisha Jumwa, Okoth Obado, Mike Sonko and Walukhe as a good example of how this strategy works. By 2022, Ruto might find himself a very lonely man, with most of his allies either having deserted him or completely been silenced. As Professor Makau Mutua likes putting it, it seems that after-all Ruto is all hat and no cattle.
Expunged From Influential parliamentary Committees.
It is quite telling that all key Ruto allies in parliament have been pushed out of all the influential committees in both the National assembly and the Senate. This includes, the vocal former Jubilee Senate Majority Leader, Elgeyo Marakwet senator, Kipchumba Murkomen.
Kipchumba Murkomen, DP Ruto and President Uhuru.
The removal of Mr. Murkomen as Senate Majority Leader was quickly followed by the ouster of another equally vocal key ally of the DP in parliament, former Jubilee Majority Leader in the National Assembly and Garissa Township MP,  Aden Duale. 
Aden Duale and President Uhuru.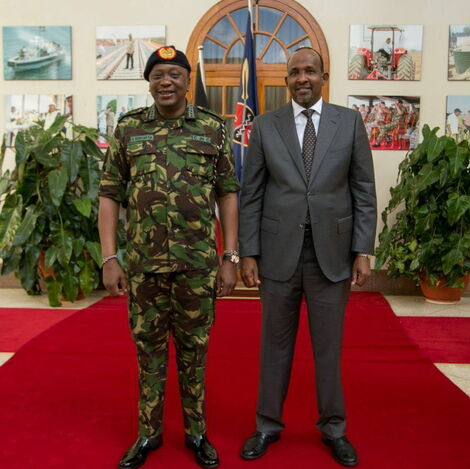 Yet after all these serious political assaults on his men, Ruto has not done anything substantial to defend them! To many pundits, this is a sign of a weak political spine.
Suppose it was Raila Odinga in Ruto's position today and all these political assaults were being directed at him? Your guess is as good as mine.
Who Is Likely To Be the President of Kenya In 2022?
Whichever way you look at it, unless something drastic happens, Uhuru and Raila Will have a huge say on who occupies statehouse come 2022. But, they will have to ruthlessly clip Ruto's political wings first in order to install the kind of leadership they want or install themselves at the helm in 2022.
If Ruto, by some fluke, survives this assault and finds himself in statehouse in 2022, he is likely to go the Moi way. To prove a point to UhuRaila and entrench himself in power, he will embark on serious assault against the so called deep state and the system. The man will simply become a dictator.
A paranoid Moi did this with the Kiambu and Mount Kenya Mafia, who normally hung around Kenyatta,and made his life a living hell when he was Vice-President. He weeded them out of government one by one and even went after their businesses to cripple them economically.
He ruthlessly went after those with dissenting voices in and without government, and detained them without trial. This effectively made him an African strongman who ruled with an iron fist..
Where Does William Ruto Come From Politically?
Having cut his political teeth under the tutelage of Daniel Arap Moi, there is no doubt that Ruto is also likely to become one big dictator, if he becomes president. He might have had a short stint as a political student of Raila Odinga, but he seems not to have learnt the biggest secret of Raila's success in politics: the ability to easily embrace and work with his enemies.
Make no mistake, the man (Ruto) knows how to keep a political grudge. Just ask the older politicians like Musa Sirma, Sally Kosgey and Franklin Bett, who were close to Moi and stood in his way, when Ruto wanted to become the Rift Valley political Kingpin.
He vanquished all of them and made sure they never recovered politically. Yet he could actually make use of these older hands for political advice and tutorials on how the deep state operates. Remember, they were right in the "system" during the Nyayo "error".
The BBI Referendum Outcome to Determine Who Becomes President in 2022
It is a sad reality that Ruto is one of the most serious alternatives that Kenyans have to the current thieving Jubilee regime. Ideally Kenya needs a fresh order at the top, but it seems we are likely going to make a choice between two evils in 2022.
The battle-lines are already drawn, beginning with the looming BBI referendum. The answer to the question of Who will Win 2022 election in Kenya will largely depend on the outcome of the referendum. Uhuru knows that between him and Ruto, one must go down. Will Ruto survive the deadly combined political assault of UhuRaila?
All we can do now is check whether we have enough reserves of popcorn because the drama season of bare-knuckled realpolitik is here.
Many political careers will be destroyed while others will be made at the altar of the imminent BBI referendum. One day in politics, as they say, is like eternity. You never know what surprises await us before 2022.
REFERENCE SOURCES
https://www.aljazeera.com/indepth/features/clash-kenyatta-ruto-190815111239221.html
https://www.the-star.co.ke/siasa/2019-11-23-ruto-is-not-playing-uhuru-must-decisively-act-now/
https://www.kenyans.co.ke/news/56843-uhurus-photo-watching-rutos-citizen-tv-interview-goes-viral