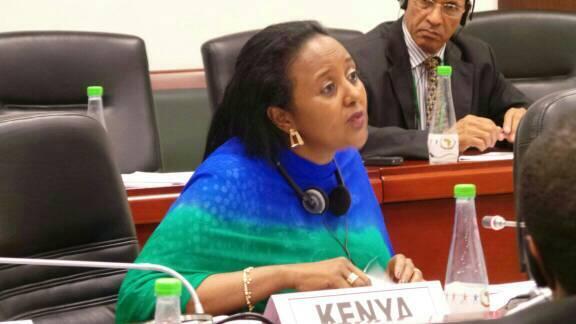 There is no doubt that Ambassador Amina Mohamed has distinguished herself as the most hardworking CS in the Jubilee gov't. Suave and articulate, are adjectives that can easily be used to describe her.
However, it is not lost on any keen eye that, Jubilee's foreign policy since it took over power in 2013, has largely been influenced by the president and his deputy's ICC cases. Consequently, most of Amina's assignments, as foreign affairs CS, have revolved around ICC politics, since she came into office.
Not that she hasn't achieved much in other fronts; but It is a pity that her evidently vibrant energies have mostly been directed to causes aimed at fighting and putting off the ICC fires.
Is this beneficial to the common folk in any way? The answer is obviously, NO. were you made to believe that the ICC cases were a small personal issue? They were not. They have actually been Jubilee's top priority, to an extent of shaping its foreign policy.
In the the recent past, Amina has put her fiercely brilliant mind into fighting the ICC and her latest exploits, right from the ASP to the UN and AU are on record as highly focused and relentless.
Lately, she has been on a charm offensive to lobby African countries against the Rome Statute, which established the ICC. She has, therefore, been very instrumental in the adoption of a resolution adopted by African countries to withdrawal from the Rome Statute, en masse.
This took place yesterday in Addis Ababa, Ethiopia where an AU Executive Council endorsed a report containing Africa's misgivings with ICC. The African leaders are expected to adopt the document during a heads of state meeting in Addis this weekend.
After this, Jubilee is expected to use its tyranny of numbers in parliament to pass a bill meant to amend the international Crimes Act, then Kenya will notify the UN Secretary General of her intention to withdraw from the Rome Statute, through writing. The withdrawal shall then be effective one year after the notification is received.
What I don't know is whether Amina and her bosses have paused to ask themselves, in whose interests they are doing this. Do they represent Kenyan citizens' wishes or their own interests? Who said that Kenyans and Africans in general want to pull out of the ICC?
African leaders have gained notoriety in butchering their own citizens, with impunity, and getting away with it. Not long ago, Sudan's Al-Bashir massacred masses in Darfur, as the AU watched helplessly. He has since been an ICC fugitive.
We had our own share of madness in 2007/08 when we experienced a serious PEV like never seen before in Kenyan history. Nobody has been held accountable up to date.
The issue of pulling out of ICC, especially at a time when the Burundian president is clinging onto power in a murderous regime, as his peers watch impotently, reeks of absolute impunity and hypocrisy. This is an issue that should actually be put to a referendum so that the citizens can decide.
The single question in that referendum can be, "SHOULD KENYA PULL OUT OF THE ROME STATUTE?" .(YES/NO.) I can assure you that by midday on voting day, Kenyans will have resoundingly said, "NO. THANK YOU," with a big RTS at the bottom of the ballot paper.
It is a big shame that such a brilliant mind can be misused in championing for a very unpopular agenda like pulling Kenya and the rest of Africa out of the Rome Statute, hence ICC, when it is obvious that AU is toothless in the face of the frequent massacres of populations in the continent. Using public resources to push the agenda is an insult on a bad injury, to say the least.