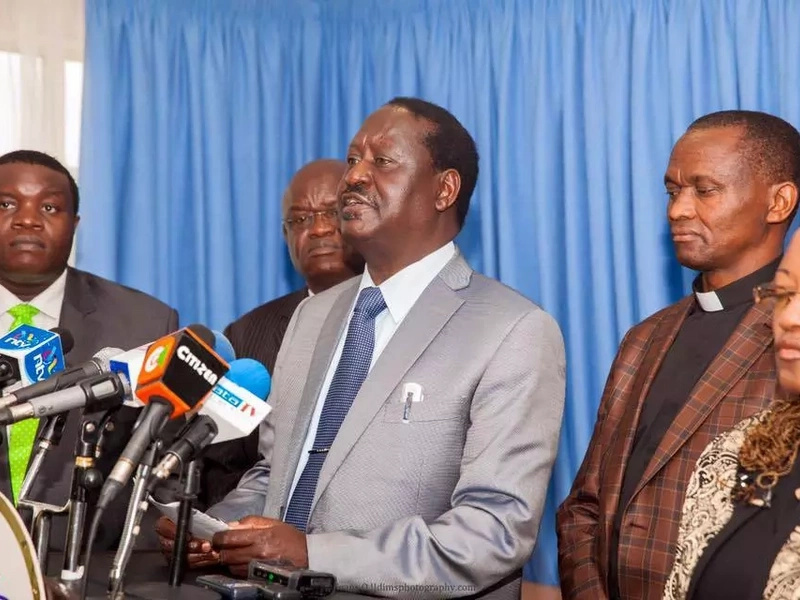 For a government that is known to be so much obsessed with PR stunts, the Eurobond saga is giving statehouse operatives, especially the digital mafia led by one Dennis Itumbi, nightmares. They no longer know how to contain the anger expressed by Kenyans on social media.
Their PR antics have fallen flat on the face, as Kenyans demand for answers on the mega corruption scandals going on in government. Apparently, Raila Odinga's expose on the Eurobond saga caught them flat-tooted. They were holed up the whole day yesterday, trying to cook up answers that could counter the devastating expose. However, many supporters from government strongholds have brutally shut them up. People are tired.
The effects of a mismanaged economy have started biting hard as bank interest rates are now on an all time high. With basic daily consumables gradually getting out of reach for the common mwananchi, it is no longer a Jubilee or CORD affair. Kenyans from all walks of life, in both sides of the political divide are really getting tired of the lies being propagated by the Jubilee regime. The Jubilee mandarins have perfected the art of hurriedly convening press conferences to attack the character of anybody who exposes their weaknesses, instead of addressing the issues raised.
Dresden James once said that, "When a well packaged web of lies has been sold gradually to the masses over generations, the truth will seem utterly preposterous and its speaker a raving lunatic." For a very long time the anti- Raila Odinga forces have managed to convince their followers that Odinga is a power-hungry politician who doesn't have the interests of Kenyans at heart. Therefore, to them, Odinga has always looked like a raving lunatic, every time he pointed out the rot in government. But, you can only lie for so long to people who have brains of their own. The scandals in the Jubilee government have become far too many to be fiction.
That brings me to the rating, in terms of performance, of governments that have ruled Kenya since independence. About one year ago, Dr.David Ndii, a renowned Kenyan economist and columnist, gave a very interesting perspective, in this regard, in an article that appeared on the Saturday nation of March 1st 2015. He used three dichotomies that define our politics to rate performance of the four regimes that have ruled Kenya since independence. Ndii rated the regimes as, LIBERAL or ILLIBERAL; CORRUPT or CLEAN, and COMPETENT or INCOMPETENT. Nobody aptly puts it the way it is, like this guy does.
He went ahead to write that Jomo Kenyatta's government was Illiberal, Corrupt and Competent; Moi's was Illiberal, Corrupt and Mediocre, while the Kibaki regime was Corrupt, Liberal and Competent. However he didn't have any kind word for the Jubilee government and here is what he had to say about it: "Uhuru and Ruto are Moi's protégés. Not only do they seem to have internalized the politics of mediocrity practiced in Moi's KANU but they also missed out on the education and socialization in liberal politics that the NARC coalition politicians went through in their 15 years in opposition." Therefore, based on the three parameters, Jomo scores 1 out of 3, Kibaki scores 2 out of 3 while Jubilee, like the Moi regime, scores zero!
I have always thought that I was the only person mesmerized by the raw talent exuded by sycophants as they shower praises on their seemingly perfect leaders till I read Ndii and he confirmed my and many others' fears.
Referring to a government led by mediocre leaders as a "Mediocracy", he quipped that, "Sycophancy is just as critical an element of 'mediocracy' as the leader's insecurity. I have long been intrigued by sycophancy, mainly from observing hitherto accomplished people transform into complete idiots once they are close to power." He went ahead to add that "Sycophants it seems are born not made. Sycophancy is a calling. It is self actualization." He argues that a government led by mediocre leaders is far much dangerous than a corrupt but competent one since mediocre leaders usually "eat into the capital just as it happened during the Moi regime." Are the land grabbing spree, Chickengate ,Rubbergate, Galana irrigation scheme, laptops, SGR, El Niño funds and now Eurobond just a tip of the iceberg of the scandals that the Jubilee government has been involved in? The jury is still out there.
The Jubilee regime has no shortage of sycophants, with some declaring openly that they indeed are chief sycophants. What with the Duales, Kindikis and Murkomens of this world defending every wrong move of this government? These three make the sycophancy of Joseph Kamotho of the "baba na mama" fame and Mulu Mutisya of the KANU era look like child play. The three's voices have literally turned hoarse trying to defend an indefensible government. They see no wrong and hear no wrong about the Jubilee government. This cannot be true patriotism! True patriots accept their weaknesses once in a while and pledge to improve on it. The saddest thing is that the best sycophants of any regime are usually highly learned fellows.
Aden Duale once said that if Uhuruto told him to jump from the top of KICC and he was convinced that they had a good enough reason to do so, he would go ahead and jump! That was the most ridiculous confession of sycophancy I have ever heard in my life. True to his word, he has been the unwavering spokesman of this regime. I sometimes wonder whether the Duales of this world and other defenders of the Jubilee government really believe in what they say!
Perhaps the worst tragedy that is slowly unfolding in Kenya is the calculated attempt by the Jubilee leadership to take Kenya back to the KANU era dictatorship. Don't forget that Uhuru Kenyatta and William Ruto were weaned into politics while sitting on the lap of KANU's strongman, Daniel Toroitich Arap Moi. Already we are being treated to very many KANU-era tactics of poaching opposition MPs using money and appointments, gradual mutilation of the constitution to give the president more unjustified powers, Using harambees to bribe the people, tribal delegations being treated at statehouse and the rural home of the deputy president- where brown envelopes are said to change hands, and above all; a call for one party that will "unite Kenyans!" whatever that means! The nostalgia for "the good old KANU days" is real in the top Jubilee leadership.
The call for Kenyans to join the new Jubilee political outfit called Jubilee Party (JP) might be welcome in Kenyatta strongholds since it is meant to take him back to statehouse in 2017. However, it might be a different case for the Kalenjin nation and other regions of Kenya, when it comes to joining the new political outfit. Since in Kenya, parties are known to be used as political vehicles which become tools of negotiating for a stake at the high table of political power, the move to dissolve URP is already causing jitters in the Rift Valley. In any coalition government the bargaining power of the political sides that form the coalition is tied to the strength of their parties. The Mount Kenya region might easily warm up to the idea of a single party for Jubilee since "one of their own" is in power. In any political merger, the smaller parties are effectively swallowed by the biggest party in the arrangement. In this case, URP will effectively be swallowed by TNA. The other smaler parties in the coalition are a "Non-issue".
However, pundits say that the Rift Valley people may not take the decision to dissolve their party so lightly. Already this has generated a lot of heat in some quarters with some leaders like Bomet , Governor Isaac Kiprono Ruto​ and Nandi Hills MP, Alfred Keter vehemently opposing the JP outfit. They know well that W.S. Ruto does not wield the same power that Uhuru Kenyatta wields. They also know that dissolving the party they used to negotiate for power will rob them off the only negotiation tool they have within the Jubilee coalition. With some politicians from central Kenya already planning to be running mates of Ruto in 2022 (as if 2017 is already a foregone case) the Kalenjin nation will only tread very carefully. They will have no guarantee of getting support in 2022 unless they want to threaten that they will cause violence if Ruto is not supported by the other side in 2022!
When they spoke of Ruto's running mate coming from central Kenya in 2022, it is actually very interesting that in their succession equation , these politicians are arrogantly assuming that all the other communities that are not from Mount Kenya or Rift Valley are not Kenyan enough to feature in the Uhuru Kenyatta succession politics! However, a day in politics is like 90 minutes in football. Francis Atwoli recently said that, "If you are promised that you will be president in 2022 (a whole 8 years from now) and you believe it; then your head is full of mud." Do you agree with him?