The real hustlers can only look forward to the only thing that fuels them daily – HOPE for a better tomorrow. Hope that things will improve someday. Hope that their government will somehow lessen their burdens by reducing taxes on consumable goods, especially foodstuffs, hence making them more affordable to all.
Our daily inspiration comes from the most unlikely quarters. It doesn't have to necessarily come from those who have made it big or those with bank account balances that read like phone numbers (if making lots of money can be counted as success at all).
Inspiration might also not come from those who have scaled to the top of their career ladders, sometimes through questionable methods. Real inspiration might, however, come from the groceries woman who, despite having gone to bed at 11.00 pm, wakes up at 2.00 am, takes a bus to the city market to pick her merchandise and by 5.00 am she is back in her house in Mathare.
Instead of going back to bed for a couple of hours, she starts preparing her children for school. By the time they leave for school, it is time to open her grocery where she has to stay the whole day selling her vegetables and fruits. The cycle repeats itself daily. Never mind that what she makes in a month is barely enough to feed her family, pay rent, school fees and other expenses.
Think of the "matatu" driver and conductor, who take the "mama mboga" to the market at those wee hours of the night! The poor guys probably went to bed past midnight, after ferrying their last batch of passengers home. They are sleep-deprived, but the idea of their families going to bed on empty stomachs scares the sleep out of them! They must work the whole day, however tough and dangerous it is to drive under the sleep-deprived condition.
Imagine the relentless spirit of the hawkers who have to hawk their wares under the scorching sun. Sometimes, a typical Kenyan hawker has to talk to over 20 prospective buyers without selling even a single item but, they never give up because lady luck might smile on them on the 21st person that they will approach.
Quite often, they have to play hide and seek with the dreaded city council askaris (popularly known as "kanjo'). Many are the times they have to flee for their dear lives, carrying their wares on their backs, whenever the "kanjos" strike.
Picture the small-scale farmers upcountry who rise very early in the morning and withstand the stinging cold dew of the morning in their small tea farms, as they pluck the leaves. After this, they have to spend the rest of the day at the tea-buying centres to weigh their tea.
Besides the unscrupulous clerks weighing their tea leaves inaccurately, hence stealing directly from them, their product has to go through so many brokers who end up getting the lion share from the export sales. The poor farmers only earn peanuts at the end of the month or year.
Meet the cart (mkokoteni) pusher, who earns a livelihood by ferrying other people's luggage. By the time the "Mama Mboga" arrives in the market, he is already there ready to transport her merchandise to the bus station at a fee. One wonders when this fellow catches even a wink of sleep!
You just need to wake up one early morning and have a look at the migration of humanity, – from Eastlands, Kibera and Kawangware – walking towards the industrial area. All these people go to perform lowly paying menial jobs in the industries.
Remember, not all of them get a chance to be taken in. Some have to walk back home after being told curtly, "we are sorry there is no job for you today." But even so, they will still rise very early and come to try their luck the following day. All these people do whatever it takes to earn an honest living and put food on the table, for themselves and their families.
These and many more other hardworking Kenyans in various fields, doing jobs that don't seem prestigious at all, are the people who truly inspire me. They are the workhorses that keep the engine of our economy roaring. They do not sit around waiting for alms. They do their best to ensure that their families do not go to bed on empty stomachs.
All these hardworking Kenyans, who live from hand-to-mouth, are what William Ruto refers to as the "Hustler Nation" They are the Hoi Polloi of our society. They belong to what Karl Marx called the proletariat class (the poor masses), while Ruto belongs to the bourgeoisie (the rich).
Most of these commoners can never taste the opulence that DP William Ruto enjoys, even in their wildest dreams, thanks to the unfair dominance of the bourgeoisie in society. Therefore, DP Ruto's claim that he is one of the hoi polloi (hustlers) is the biggest fraud of our lifetime.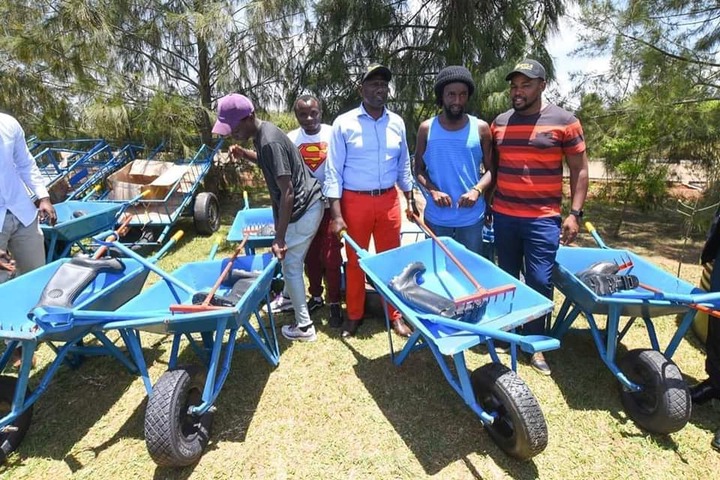 Ruto might have been a hustler about three decades back, but that is precisely what it is. In the past. He is now a filthy rich man who will always put the interests of the capitalists first before he thinks about the masses. Why? You might ask. The answer is simple. He is himself a rich capitalist and a leopard never loses its spots, even when dressed in sheepskin. Guarding his wealth (and that of fellow capitalists), from the marauding masses, will always be his priority.
The hustlers can only look forward to one thing that fuels them daily – HOPE for a better tomorrow. Hope that things will improve someday. They hope that their government will somehow lessen their burdens by reducing taxes on consumable goods, especially foodstuffs, hence making them more affordable to all.
The hoi polloi hope that their government will crush the monster of corruption, and come up with policies that will make healthcare and education free for all. Such are the sustainable policies that we want leaders like DP Ruto to put in place, instead of dishing out wheelbarrows – contraptions that were used during the stone age era.
The fact that the real hustlers are not cowed by their dire situations, as they still can afford a warm smile and say, "I am okay," even when they are not, is what inspires me most.
These are my mashujaas. For these folks, my hat is always off in respect. Those seeking to make a mockery out of these hardworking citizens, for political expedience, must hence be stopped right in their tracks.